New Year's Eve igloo sleep over
Monday, January 2nd, 2012 at 3:39 pm
With the igloo done and stocked with sleeping bags and pads the only thing left to do was sleep in it. The weather after Xmas was kinda finicky and we passed on two scheduled dates which had moderate temps but rainy conditions. That left New Year's Eve as the next option but the temps at 6000', the igloo elevation, were going to be around 15 degrees. I wasn't sure I had that much faith in the igloo to keep us warm, but folks who knew assured me that we would be cozy. Dec 31, turned out to be a beautiful sunny day, perfect for our hike in. We would at least start out the night dry. Arriving around 2 pm we started work on a wind break wall to the south. This got us warmed up and having fun.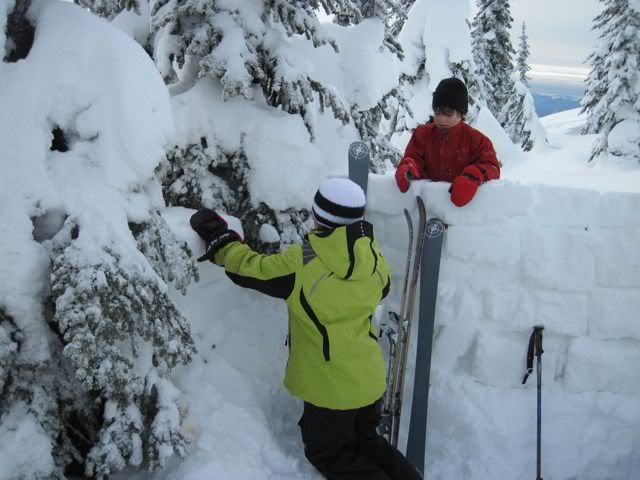 We hiked a bit from the igloo and dug a couple of test pits. Pulled out our probes and measured the snowpack at 120 cm. We did an extended column test and found that the snowpack was looking pretty stable. It started getting dark around 4:30 so we headed in to cook dinner. We all felt pretty warm but the outside temps were dropping fast. In the igloo the boys pulled off their ski boots and put on their hut booties we had bought the night before. This turned out to be a huge comfort to their toes and no one complained to me about cold feet. With the candles lit things started to feel pretty comfortable, but it would get a lot colder and the thin door of the igloo with a 3" gap at the bottom didn't look capable of stoping the cold. We had it pretty cush, thought, with ipod and speakers, DS game machine, tons of chocolate and stash of fireworks, Around 7 pm we went out to light em.
I jammed the first rocket into the snow and lit it. It quickly became evident that I had jammed it too far cause it wasn't going airborne. Oh crap exploding rocket in our faces! We ducked towards the igloo as it blew up! Ok second one not so deep and it launched and exploded with flares. After the light show we returned to the igloo and felt how much warmer it was inside than outside and I knew we were going to be ok. We pulled out the sleeping bags and hunkered down with the "stuff you should know" podcasts playing on the ipod. We slept pretty good and stayed warm and dry, I was amazed! The next morning brought clear skis and nice temps. We had oatmeal and hot chocolate for breakfest, then got our  gear on. We got some visitors, Cole and the Munro Family, Chris, Kathleen, Marshal and Owen. The boys started building jumps and we started doing laps. It was a blast!!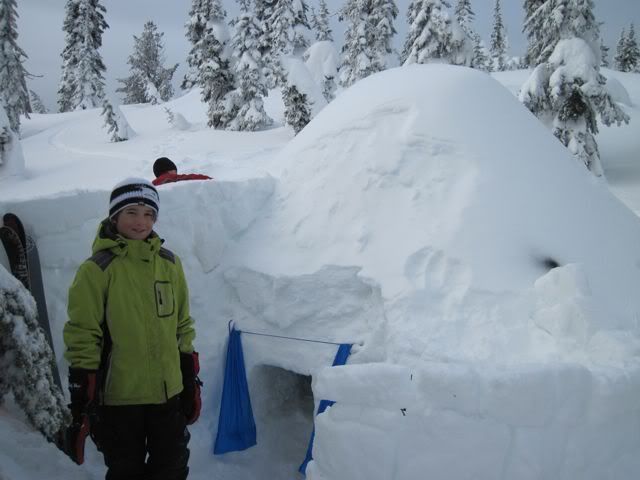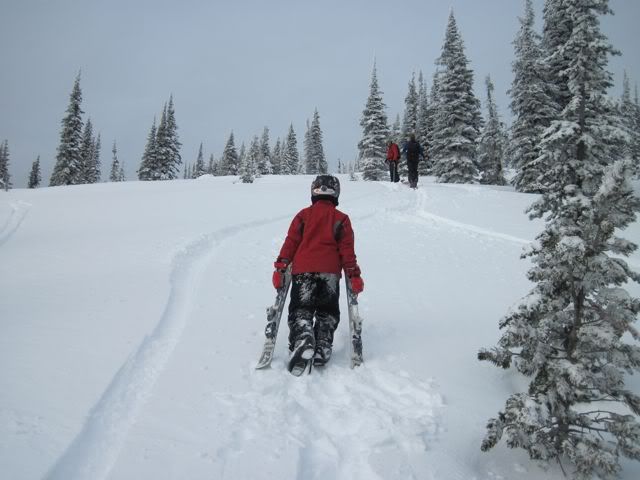 http://i65.photobucket.com/albums/h218/chillerdecks/nyigloojump.jpg
Tagged with: riding • Sharing • video
Like this post? Subscribe to my RSS feed and get loads more!