Winter is here!
Monday, December 9th, 2013 at 2:50 pm
Let's start with the flipper update. We got a pretty good dump of pow the middle of November. We took up the flipper, 145 reverse side cut and a grassroots powder slut. It was up to 13 inches deep in some areas and we hiked up and rode a fairly steep zone at Schweitzer. I rode the flipper in the loose mode and had a blast! It was really controllable while having tons of float at the same time. It didn't ride as fast as the 145 reverse or powder slut but you didn't really care. It felt like you were floating a small skate. It was fun! The next week we hiked again but this time under less then optimal conditions as there was a pretty good crust developed part way down the run. The first 10 turns or so were great and then it got tricky. The flipper rode pretty good considering how crappy it was. There was a groomed section below the powder turns that seemed like it would a good test spot for seeing how controllable the board would be on hard pack. It was steep but still an intermediate run. My thinking was that if I could keep it slashing turns I would keep my speed in check. The problem came when the pitch of the run increased to the point that the outer edge engaged and forced the nose of the board down hill which increased my speed. This was what you would call "uncontrollable." That feeling that you are doomed. We have all felt it, its a part of snowskating but usually there is hope you can regain control. On the flipper there was no hope of gaining control with the only option to jump ship. The only way to proceed was to walk downhill, which I hate doing. What I take away is that this current configuration on groomers is pretty much limited to very slight downhill section. Mellow cat track. I'm going to take it out a bit more when the snow softens and see if I can get a better feeling for its groomer limitations. I'm just so surprised how much fun it was to ride in powder without being locked down. I didn't expect that at all.
Let me back up a minute and talk about these prototype subs. Bidecks have always been controllable on groomers. I don't think there is even a sub commercially available that can't be carved on hardpack. That is how bideck's define themselves. They may not be as good at doing tricks like singles and surfs but they are very controllable in all conditions as long as you choose the right sub. Singles and surfs can't make that claim and its at the basis of what separates the groups.  But, If we remove the requirement that a sub must be controllable on hard pack it opens up a ton of shape options. The 162 and 162r differ very slightly but the ride implications of pushing out the waist beyond the point of groomer control adds a bunch of float while still maintaining tons of leverage in all but hardpack.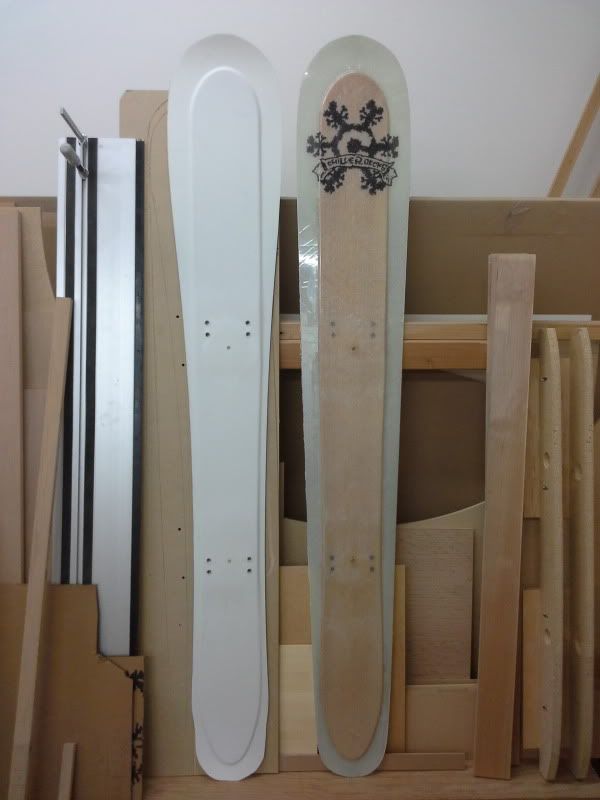 That means if the snow is only a few inches deep you won't feel the control penalty that you would on a surf. Small increases in width yield a very noticeable float increase. There is the point from just beyond what is groomer controllable on a bideck to the point that its too narrow for a powskate that is wide open for exploration. That's where these prototypes are coming from.
To increase float you can add length or add width. This 135 powskate does the latter.
I've been out on it three times now. The conditions haven't been very deep, with wind blown crusty sections and drum tight packed powder. I've eaten it a few times when my leverage evaporated but I'm getting the hang of it. Its been fun but at the same time, I've been a bit on edge not knowing if the conditions were going to change suddenly and dump me on my head. Yesterday I had the best run after we found a good stash of pow but was limited to just the one shot. It does pretty good on shallow conditions and the top deck definitely increases leverage. In this scenario I'm riding the chair with my inbounds board and carrying the powskate sub attached to my pack. So far its been easy to do and the lifties haven't said anything. Once we go through the out of bounds gate I switch subs and stash the inbounds sub or carry it on my pack. Its an extra step for sure and not sure how much longer I will have patience for it but it's okay for now.
I have Xtreme spikes!! I am so happy to be able to offer spikes. It is a bit tougher to readjust your foot placement sometimes but the grip is so good and its really easy to clean of the snow. Still have foam available. Nice to have options. Thanks to Deanna at GripAll!!
New T's. Boneflake and "try dying" shirts.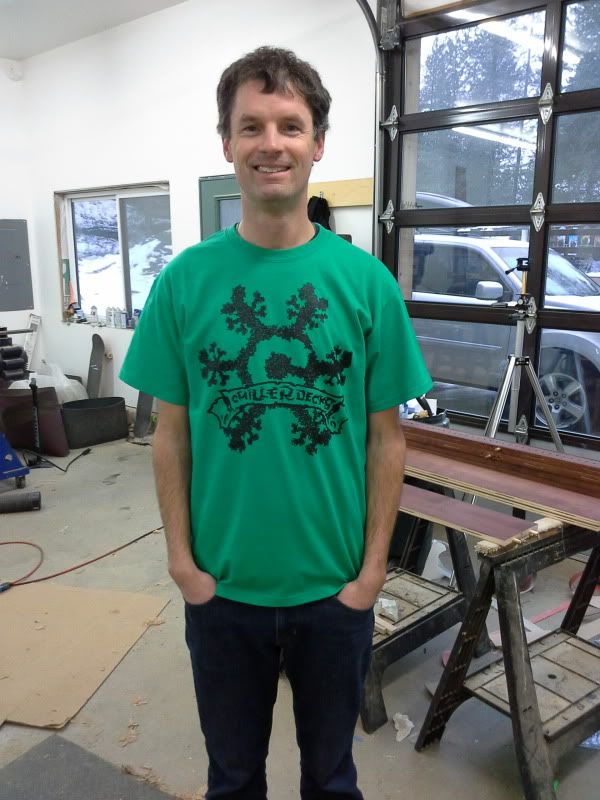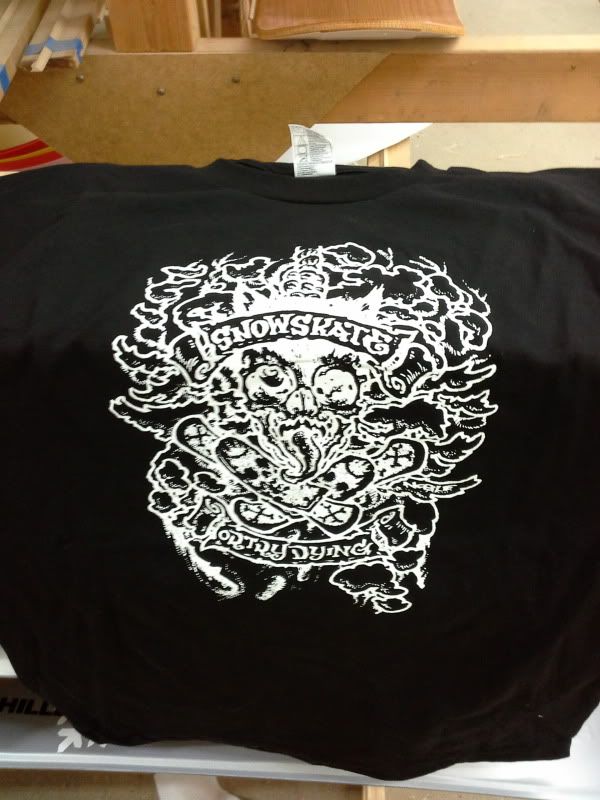 Thanks to Jamie and Eric for engraving the truck channels. The new laser cutter in Jamie's shop is rad and the trucks have never looked so good. Sorry to those whose parts when out before this. It was a stroke of good luck that I didn't know was coming.
Like this post? Subscribe to my RSS feed and get loads more!